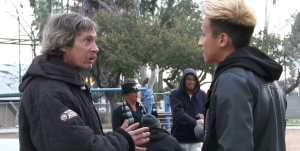 Josh Paler Lin had no idea his little experiment would end up the way it did.
As the World Journal reports, Lin gave $100 to a homeless man named Thomas near Anaheim and then followed him with a video camera to see what he would do with it.
To Lin's surprise, Thomas bought food and shared it with other homeless people, many whom he didn't even know.
Lin asked him why he did it. Thomas told him it brought him happiness.
Lin who calls himself the "craziest Asian prankster alive" has started an Indiegogo campaign for Thomas and has raised $139,000 as of this writing. Lin hopes to surprise Thomas with enough money for him to buy a home.
UPDATE: There seems to be some skepticism about whether the video was staged. Lin continues to maintain it is legit.
You can read more about Thomas' story in the World Journal.
You can watch Lin's experiment in the clip below.