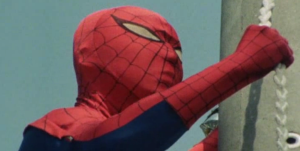 A live action Japanese Spider-Man is being resurrected by Marvel, reports Comicbook.com.
The show originally aired in the 70s. The classic episodes are now being brought back with English subtitles.
"He is like no Spidey you've ever seen before! Sure, he's got spider-sense, can climb walls, and swing on a web…but he's also got the Spider-Machine GP7, a flying, missile-launching race car– and a leopard-headed spaceship, Marveller,  that transforms into his giant robot, Leopardon, says writer Dan Slott.
How does this Spider-man differ from the version most in the United States are accustomed? You can read about that in Comicbook.com.
You can check out classic episode one below.