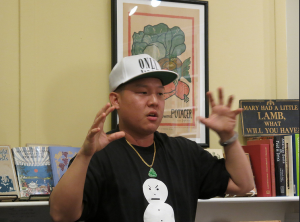 If you followed the career of author, chef and producer Eddie Huang you know he's brash, hip and unapologetic (Photo by Gary Stevens).
So when a TV reporter opened  Fresh Off the Boat's press panel with a question about chop sticks, Huang didn't hesitate to confront him, reports Deadline.
"I love Asian culture. And I was just talking about chopsticks, and I just love all that. Will I get to see that, or will it be more Americanized?" the journalist asked.
"It's more about chopsticks," said the sarcastic Huang whose memoirs the show is based.
Huang has not minced words about the highly anticipated series. As Deadline put it"
"The network has sentenced this show to death by time slot — Tuesdays (beginning Feb 10) against CBS' NCIS, after a launch on ABC's plum Wednesday night comedy lineup (Feb 4). So Huang, a master of self-promotion, had ginned up major controversy about the show on the eve of its presentation to a couple hundred journalists at Press Tour."
In a piece in Vulture, he questioned how producers had interpreted his book and pushed for more authenticity. He also questioned why an Iranian American, Showrunner Nahnatchka Khan, was writing it.
But during the press tour, he was quick to make clear he supports the show and considers it historic. TV Line quoted him as saying:
"I absolutely feel like we should have more writers of Asian American descent in the writers room. But I do not debate Nahnatchka's ability, at all, to do the show.
"It's important, for me, to have a qualified support for this show — makes sure this show stays authentic to the book and people of color in general," he said.
As for Khan, she understands where Huang is coming from, but stresses she can relate universally to the themes in Huang's story.
"For me, I related to this when I read his memoir. The specifics were different to my growing-up experience. What I really related to was the immigrant experience. That was my access point."
 RELATED STORY:
Eddie Huang Finding It Weird to See Himself on TV