The first time I saw Roger Shimomura's work I was mesmerized. It was part of an exhibition at the Smithsonian, but amidst all of the great art, it was Shimomura's work mixing iconic American images with Asian Americans that left a lasting impression (File photo from Yellow Peril Opening by Crow Collection).
His use of comic book styled drawings contrasted with portrayals of Asian Americans as strong and defiant send a clear message.
"Asians Americans in this country are real people with real issues and a real history and are not like the comic characters I portray them to be," Shimomura said to the Statesman Journal. "They deserve the same kind of sensitivity that we use to treat African-American and gay people, the same kind of tolerance is needed."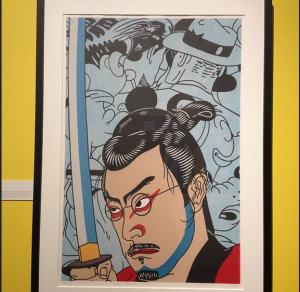 His newest exhibition Roger Shimomura: An American Knockoff is at the Hallie Ford Museum of Art in Salem, Oregon from Friday through March 24. The exhibition's name refers to how some in this country might view Asian Americans (Self Portrait by Roger Shimomura. Photo by Sarah Stierch).
"Something that Asian people suffer in this country, the presumption that they're foreigners," Shimomura said. "That's sort of the definition of a knockoff."
You can read about some of the life experiences that shaped Shimomura's work and some examples of his work in the Statesman Journal.