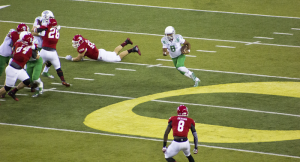 If this wasn't true, it would be funny. NFL.com reports that some NFL scouts are questioning whether Heisman Trophy winner Marcus Mariota is "too nice" to be an effective NFL quarterback.
"I just don't know if he's that alpha male that you're looking for," said the scout to Sports Illustrated.  "The kid's kind of a fly on the wall kind of guy. Physically, he's really talented, but it's going to take a little time. If you're expecting him to come in and be your savior year one, I don't think that's going to be it."
So let me get this right. Mariota lead the Oregon Ducks to the championship game under the first collegiate football playoffs. By all accounts, he's loved in the locker room and he's a respected leader of the team.
So you're going to knock a Heisman Trophy winner because he's "too nice?" Joe Montana wasn't a jerk, yet he won four Superbowls for the San Francisco 49ers. No one ever called the Notre Dame grad too nice. Since when is being mean a prerequisite for being a successful QB?
You have to wonder if this "too nice" criticism making its way around the NFL is code for Asian American Pacific Islander men can't be leaders.
Mariota declared yesterday for the draft.  Some predict he will be the first draft pick in the NFL.  Others say he will drop to the middle of the first round.
Perhaps between now and the NFL draft, Mariota can shove a reporter out of the way and toss the food spread across the locker room to prove he's "man" enough for the NFL.