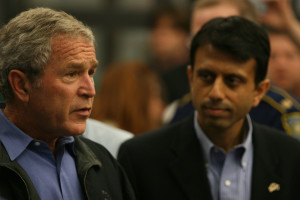 Conservative presidential hopeful Bobby Jindal says his parents came to the United States not to be Indian Americans, but Americans, reports the Times of India (Photo: Bobby Jindal with President George W Bush in 2008).
He called on immigrants in this country to assimilate.
"If we wanted to be Indians, we would have stayed in India," he said in the text of remarks expected to be given to the Henry Jackson Society on Monday in London. "It's not that they are embarrassed to be from India, they love India. But they came to America because they were looking for greater opportunity and freedom,"
Jindal who became the first Indian American to be elected governor of any state in 2007 will be termed out as Louisiana's governor in two years. He has publicly acknowledged he is considering a run for the Republican nomination for President.
"It is completely reasonable and even necessary for a sovereign nation to discriminate between people who want to join them and people who want to divide them. And immigration policy should have nothing at all to do with the color of anyone's skin. I find people who care about skin pigmentation to be the most dim-witted lot around. I want nothing to do with that," he said.
You can read more of his remarks in the Times of India.