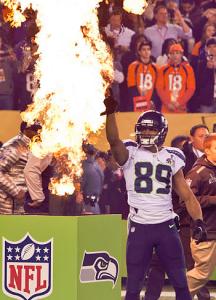 Filipino American wide receiver Doug Baldwin is headed to the Superbowl with the Seattle Seahawks to defend the team's championship season.
After the NFC Championship in which the Hawks came from 16 points down to win in overtime over the Green Bay Packers, Baldwin blasted anyone who doubted his team, reports USA Today.
"Everyone counted us out, you all didn't believe in us," said Baldwin referring back to the middle of the season when the Hawks were just 6-4. "16-0 in the first half. How many of you counted us out? How many doubted us. It's indicative of our entire season."
You can hear Baldwin's entire rant in the clip below. Plus you can hear him go after NFL Network analyst Deon Sanders in a second clip on USA Today. .