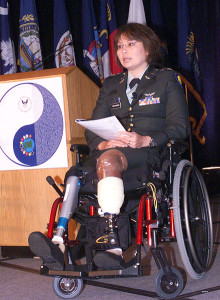 A second Asian American could jump into the race for US Senate in 2016.
Jezebel reports that Rep Tammy Duckworth (D-IL) is considering getting into the race.
"I'm humbled by the encouragement that I'm receiving to run for the Senate," Duckworth said, "and I think it's pretty clear that people are looking for a change and I'm going to explore the possibility. I'm ready to really explore the possibility of a run."
If nominated by her party, she would face incumbent Republican Mark Kirk.
Duckworth is the first Asian American women ever elected to Congress in Illinois. She is an Iraq war veteran and double amputee. She was born in Thailand and has both Thai and Chinese ancestry.
She would face another veteran who is recovering from a debilitating stroke.
Earlier this month, California Attorney General Kamala Harris announced she would run to replace retiring US Senator Barbara Boxer. Harris is already considered an early front runner.