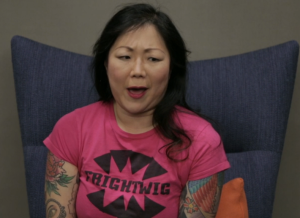 By Ariel Neidermeier
Two episodes into its six-show run and TLC's All About Sex pretty much serves up exactly what you'd expect: frank conversations about sex, love and intimacy issues and the week's craziest sex-related news. The first episode, which aired Jan. 10 at 11 PM included a spirited debate about sex with co-workers, whether wives barter house chores for sex (according to a statistic cited by the show, 84% of women do) and an interview with a woman who undertook a challenge to have sex with her husband everyday for a month.
Each host brings their own notions and sex styles to the conversation, creating a lively forum of debate on the topics covered. There's Heather McDonald, a New York Times bestselling author and comedian who is a mother of three and also kept her virginity until the age of 27. Marissa Jaret Winokour, a Tony Award-winning actress who openly talks about how much she dislikes having sex with her husband. Dr. Tiffanie Davis Henry, a sex and relationship expert who gives a scientific perspective to the sex questions tackled on the show. Finally, the host, Margaret Cho who is openly bisexual and a vocal spokesperson for alternative sexual lifestyles, including polyamory and group sex.
According to Cho, the show is less about relationships and more about how to open up sexually as an individual.
My feeling is that women are not taught enough about how to be orgasmic and how to learn about their bodies' needs. Really, this show for me is way less about sex in context of a relationship … it's more about finding yourself sexually.
The show topics can seem largely geared towards an older demographic of women, especially women who are married with children. That said, I found certain tips given during the show to be surprisingly informative for all sexually-active women. Some highlights include the tip that wearing socks while having sex makes women 50% more likely to reach orgasm and squeezing your left thumb can help turn off your gag reflex.
Overall, I found the show to be lively, informative and honest about the sex topics a group of girlfriends might discuss on a typical Saturday night out. For TLC's first attempt at late-night television, All About Sex is a definite success.
All About Sex airs on TLC every Saturday at 11 PM.
The video below with Margaret Cho contains explicit material and is not suitable for viewers under 18.