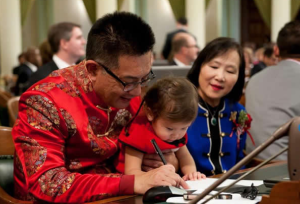 In a possible sign of growing involvement of Asian immigrants in US political life, the first Chinese immigrant who came to the US as an adult is now serving in the California Assembly, reports Patch.
Kansen Chu first came to California from Taiwan in 1976. He was elected to California's 25th Assembly District which encompasses both Alameda County and Silicon Valley.
His election is also notable in that his district is just 12 percent Chinese.  He's worked his way up the political ranks first being elected to the school board in 2002 and the San Jose City Council in 2007. Prior to elected office, he worked for IBM and then went on to run a Chinese restaurant.
You can read more about his politics and personality in Patch.