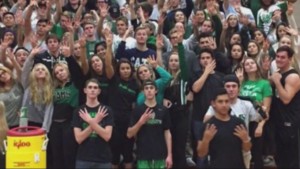 This reminds me of the kind of racial comments that used to be screamed at Jeremy Lin when he played for Harvard.
KCRA reports chants of USA, USA went up from opposing fans at St. Mary's High School in Lodi, CA when a Pakistani player went to the free throw line.
"It was not a patriotic cheer," Tokay High School Principal Erik Sandstrom said. "
"All of a sudden, you (heard) racial slurs come out," Tokay student Diego Hernandez said. "It offended everyone."
Friends of the player at Tokay have been tweeting their disgust about what happened.
The St. Mary's principal sent in a statement, saying, "We have taken definite steps to address the hurt that was caused by a chant used by our students. We will use this incident as an opportunity for our students to learn more deeply what it means to respect and appreciate others."
You can watch the full report and more reaction from the student body and faculty on KCRA.