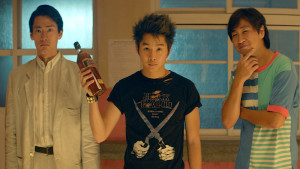 The Korean American coming of age movie Seoul Searching is debuting at the Sundance Film Festival to solid reviews.
Justin Lowe of the Hollywood Reporter called the movie "an inventive tribute to John Hughes-style teen comedies. Liberally riffing on situations and themes familiar from the high school-set movies that established the renowned writer-director's legacy, Lee has crafted an entertaining alternative interpretation that substitutes an international cast of Asian actors for Hughes' largely white, suburban ensembles."
Justin Chang in Variety said Seoul Searching "delivers a sweetly engaging tribute to classic John Hughes movies and a refreshing glimpse into the secret life of the Asian teenager." However, he also criticized the movie for "its wobbly execution."
Director Benson Lee explained the premise of the movie–Koreans raised overseas returning to Korea to a summer camp to learn about their culture.
"So for a lot of Koreans who live in the United States, our parents immigrated here after the war, like in the '60s and '70s. And we grew up in the U.S. where, again, we didn't understand our parents' culture, which ultimately meant that we didn't really understand our parents, and it caused a great rift between two generations. That's the central issue for a lot of the characters in this movie, Lee told KPCC.
You can read more of Lee's thoughts on his movie on KPCC.
RELATED STORY:
Racist Depiction of Asian American Males Inspires Seoul Searching