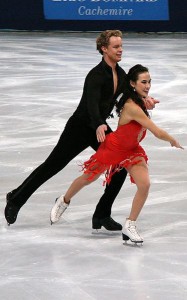 (Update: Chock and Bates have won the U.S. Ice Dance Championship)
The ice dance team of Madison Chock and Evan Bates holds a slim lead in the US Ice Dance Championships in Greensboro, North Carolina, reports Team USA (file photo).
Bates and Chock would be the first team since 2008 to win the title other than Meryl Davis and Charlie White. Davis and White are taking the year off after winning the Olympic Gold Medal last year.
Chock is Chinese and Hawaiian on her mother's side. She and Bates hold a 73.95 to 73.84 lead over siblings Maia Shibutani and Alex Shibutani who are Japanese American. The so called Shib Sibs have been Chock and Bates main rivals all season.
"After the Olympics we did two tours and did lots of shows, and learning how to perform for audiences so I think that's really serving us well," Maia Shibutani said.