Madison Chock & Evan Bates extended their lead Saturday to win the US Ice Dance championship over the brother-sister team of Maia Shibutani and Alex Shibutani, reports Team USA(file photo).
Chock and Bates are the first US Dance Champs other than Meryl Davis and Charlie White since 2009. Davis and White are taking a break from ice dancing after winning Olympic gold in 2014.
"We've definitely grown a lot and grown together, which I think is very important," Chock said. "Even though we may not have as many years together as most teams might, I think we've known each other so long and we have great coaches. We're both really hard workers and we make it work."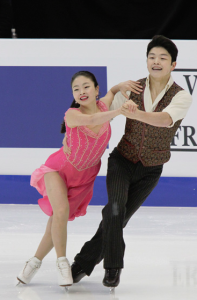 The "Shib Sibs" started Saturday just .11 points back in second place, but lost 185.06 to  181.31. Still, they are happy with the silver and already looking ahead to 2018. (Photo by David W. Carmichael [CC BY-SA 3.0 (http://creativecommons.org/licenses/by-sa/3.0)], via Wikimedia Commons
"Our next big goal is the 2018 Winter Olympics and I think we've learned it's about the journey and about every day and each experience and how you approach every opportunity that you have, so I think we are on the right path," Maia Shibutani said.

RELATED STORY:
Karen Chen Takes Third in US Women's Figure Skating Championship