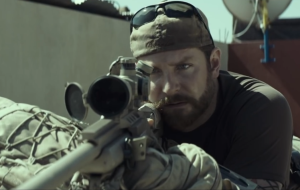 An Arab American civil rights group says the Clint Eastwood directed movie American Sniper has lead to increased threats against Muslim Americans, reports the Hollywood Reporter.
The American-Arab Anti-Discrimination Committee says those threats have tripled, particularly on social media.

In a letter to Eastwood and star Bradley Cooper, the group urged the two to condemn the threats.
"It is our opinion that you could play a significant role in assisting us in alleviating the danger we are facing," ADC said in the letter. It said it hasn't seen such an uptick in threats since a controversy in 2010 over the building of a mosque on ground zero in New York.
Warner Bros spokesman Jack Horner said "Hate and bigotry have no place in the important dialogue that this picture has generated about the veteran experience,"