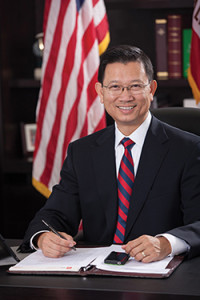 The race to replace Janet Nguyen on the Orange County Supervisors will be decided by absentee ballots, reports the Orange County Register.
Just two votes separate Andrew Do from Lou Correa in a special election that generated huge excitement in the Vietnamese American community. A survey from Political Data Inc found 45 percent of those who sent absentee ballots in were from Vietnamese Americans, despite making up just 24 percent of the district's registered voters.
"I believe in the end, we will pull through," Do said. "It's going to take a while for this all to work itself out over the next few days."
Do has strong support from Republicans and from Nguyen who he served as Chief of Staff. Nguyen who is the first Vietnamese American elected to the state senate campaigned for Do.
Analysts say strong support from Vietnamese Americans helped him put in a strong showing despite Correa's strong fundraising advantage.