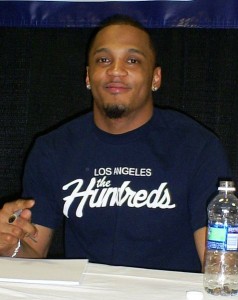 Several Asian Americans and Pacific Islanders are on the rosters of the two Super Bowl teams, the New England Patriots and Seattle Seahawks.
The two highest profile players are Seahawks' wide receiver Doug Baldwin out of Stanford University and Patriot's safety Patrick Chung from the University of Oregon.
Chung was born in Jamaica. His father is Chinese Jamaican and his mother Afro Jamaican.
He will be playing in his second Super Bowl.
Chung started his career with the Patriots, but in 2013 signed a three year contract with the Philadelphia Eagles. It did not go well and he became the target of fans upset at his play. The team cut him and he resigned with the Patriots for just $740,000 base salary, according to the Orange County Register.
It's been quite a turnaround season for Chung.
"When I came back I really kind of worked on everything," Chung said. "If you're good at something you can get great at it. If you're bad at something you can get good at it. The effort has to be all around; you can't just work on one thing. I was just being a student of the game, trying to anticipate and be a coach on the field a little bit. If you can anticipate you can play fast, so that's what I tried to do."
At the end of this season, the Patriots signed him to a three year contract extension for $8.2 million.
"Sometimes they change for the better and sometimes for the worse. This time it was for the better. I'm just blessed with a better situation."
You can read more about his turnaround season in the Orange County Register.
On the other side of the ball, the Seahawks' Baldwin raised a few eyebrows with
his rant demanding respect for his team following their come from behind victory in the NFC Championship game over the Green Bay Packers.
"We've (been) getting that negativity all year, years prior," he said about doubters. "So it's nothing new. I got some things to get off my chest."
Baldwin, whose grandmother is Filipina, plays in an offense in which a lot of attention is played to running back Marshawn Lynch and quarterback Russell Wilson. Baldwin says its not about getting attention, but getting a second Super Bowl ring.
"There is a limit to what we can do because of the number of times we're targeted," Baldwin said. "But we'll take fewer catches in order to achieve the ultimate goal."
Ultimately, Baldwin would like to leave the Super Bowl with more respect, more respect from the media and opposing players. You can read about that in the Vancouver Sun.