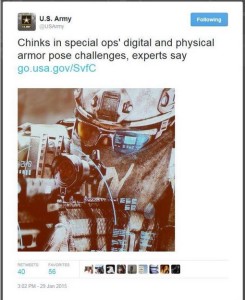 The US Army is finding out that words can be just as powerful as bullets.
The Washington Post reports the Army quickly deleted a racially offensive tweet referring to "chinks in special ops' digital and physical armor" after being called out for being racist.
Yes, its true.  Chinks is defined in the dictionary as a crack or fissure. It's also a highly offensive terms derogatory toward Chinese and Asian Americans.
The N word also has a dictionary meaning, but that word has become obsolete because its racist. The same should happen to the C word.
The incident with the army is reminiscent of what happened during the height of Linsanity when a headline on ESPN.com used the phrase chink in the armor in reference to Jeremy Lin. ESPN apologized and the editor responsible was fired.
The Army's usage of the phrase is less offensive in that it wasn't used in reference to a person. It is still offensive, none the less.
This is not the only instance  the Army has used the offensive C word. You can read more about that in the Washington Post.