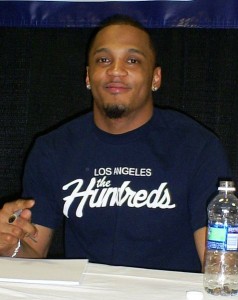 The most sought after players by the media during Super Bowl week get to sit on a podium.
The other players just roam around the field until a reporter stops them to ask questions.
New England Patriot starting safety Patrick Chung was among the later group and he didn't mind at all.
"Little less pressure," he said to the Portland Tribune. "Get to hang out, talk crap with you guys a little bit. It's fun."
Chung is Chinese Jamaican. He is the second youngest of four brothers and three sisters. His mother Sophia George-Chung once had the number 1 music hit in Jamaica in 1985. Half brother Brian Carey Chung is a choreographer. As for Patrick, he'll stick with football.
"Can't dance too much," he said. "I love music, though. Music is a stress reliever. You have a bad day, good day, OK day — you listen to music, you can kind of relate to it."
You can read Chung's story starting with his years with the Oregon Ducks in the Portland Tribune.
RELATED STORIES:
Two Asian Americans Could Play Key Roles in Super Bowl
Patrick Chung A Surprise Starter for New England Patriots