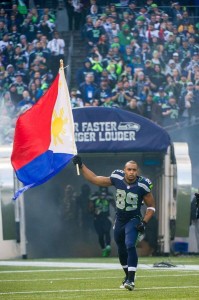 Even fans of Seattle Seahawk Doug Baldwin had to be holding their noses after his classless act on the field of the Super Bowl following his touchdown catch.
The Inquirer reports he was flagged for a 15 yard unsportsmanlike penalty for pretending to take a dump on the football.
This is the same Doug Baldwin who made Filipinos proud by carrying the flag of the Philippines onto the field in 2013 to bring attention the victims of Typhoon Haiyan. Unfortunately, Baldwin carried the flag backwards which brought him some criticism and embarrassment.
His poorly thought out celebration caused him and the Seahawks more embarrassment.
Baldwin's touchdown and subsequent extra point gave the Hawks a 24-14 lead. It was the last time they would score. They lost 28 – 24.
Baldwin's grandmother is Filipino American.