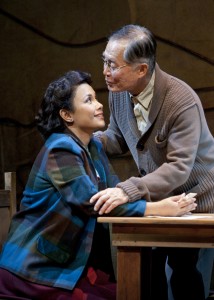 The day George Takei has been promising his fans for a few years has finally arrived.
His hit play Allegiance is going to broadway, reports the New York Times.
The play centers around a Japanese American family torn apart by the loyalty oath the United States expected Japanese Americans to take. They were asked to swear allegiance to the United States at the same time they were imprisoned behind barbed wire in incarceration camps during World War II.
The show will begin performances in October at a Shubert Theater to be announced a later date. The $13 million dollar production will star Takei, but it has not yet been announced whether Tony winner Lea Salonga & Telly Leung will reprise their roles.

Allegiance played at the Old Globe Theater in San Diego in 2012 and broke box office records. Takei pledged before the show even closed there that he would get it to Broadway.
His promise has been kept.
"I consider this my legacy project," said Mr. Takei, , 77, who was incarcerated in Arkansas at the age of 5. "This is the first time that this dark chapter of American history will be done on the Broadway stage."
You can read more interesting details about Allegiance in the New York Times.