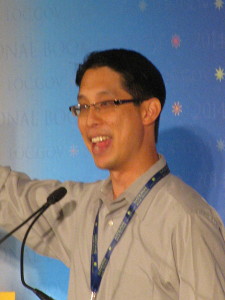 Award winning graphic author and comic creator Gene Luen Yang has been selected by DC Comics to be the new writer of Superman, reports the Mercury News.
Yang who is best known for his graphic novels American Born Chinese and Boxer and Saints is both excited and nervous about his new job.
"It's an honor to work on a character with such an influential legacy, but it's also gut-wrenching," Yang said. "My stomach has been acting up and I can't tell if it's excitement or fear. Probably both."
Yang's American Born Chinese was the first graphic novel to be a finalist for the National Book Award.  He was also a finalist for the same award for Boxer and Saints.
You can read reaction to Yang's new role for Superman in the Mercury News.
RELATED STORIES
Gene Luen Yang named finalist for National Book Award
New Book Trailer Released for First Asian American Superhero Comic Book
The Chinese American Superhero that Remained in the Shadows