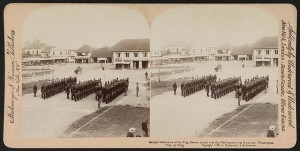 The 1st Filipino Battalion formed shortly after the start of World War II, reports the Inquirer.
Prior to that time, Filipinos were not allowed in the US military, but that changed when President Franklin D Roosevelt signed a law on January 3, 1942 changing the Selective Service Act.  The Battalion was activated on April 1 at Camp San Luis Obispo, CA.
Its commander, Lt. Col. Robert H. Offley, was said to have spoke passable Tagalog.  Filipinos were not segregated into the Battalion and were only assigned to it if they specifically enlisted for it. The unit formed its own band and it was common for the men to occasionally march to a boogie woogie or swing song.
The 1st Filipino Battalion became so large that by November 1942 a second unit was formed at Fort Ord in California. The men in both regiments were urged to apply for citizenship and 400 took part in a mass swearing in ceremony in February 1943.
At one point a white general disbanded the unit and used the men for coolie labor. That angered General MacArthur and the men quickly returned to military training.
The men were sent on special assignments and missions and even infiltrated the Philippines. You can read about that in the Inquirer.