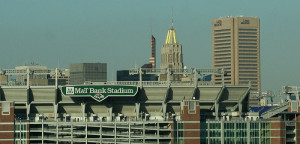 The Fair Justice Housing Center (FJHC) has sued the nation's 17th largest commercial bank, M&T Bank Corporation, reports RT.
The bank which holds the naming rights to M&T Bank Stadium in Baltimore is accused of favoring white borrowers over black, Asian and Latino borrowers.
The FJHC conducted testing over a two year period using actors posing as first time home buyers. The minority actors claimed on their applications to have higher income, fewer debt and better credit scores. Yet the housing group says it found these buyers received less preferential treatment than the white buyers.
M&T bank is quoted by Pro-Publica as saying it has the "highest percentage of African American home purchase borrowers and dedicated the highest percentage of its deposits to community development lending.  These facts reflect our deep commitment to fair lending, and to serving all of our neighbors in all of our communities."