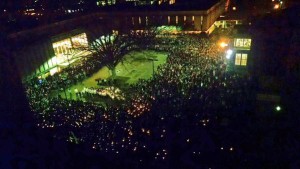 The hashtag #MuslimLivesMatter is trending everywhere on Twitter this morning as concern is being amplified about media coverage of the murders of three Muslim Americans in Chapel Hill, North Carolina.
More than a thousand students, faculty members and concerned residents showed up at a candlelight vigil in the campus community for the three victims– newlyweds Deah Barakat, 23, and Yusor Abu-Salha, 21, and her sister Razan Abu-Salha, 19, reports MSNBC.
The suspect Craig Stephen Hicks had a history of posting anti-religious articles and photos on his Facebook page. A preliminary investigation by police found the murders were triggered by a parking dispute. The families of the victims believe this is a hate crime.
This as questions are being raised about media coverage.
3 Muslim college students killed in cold blood. No media attention or outrage #MuslimLivesMatter #ChapelHillShooting pic.twitter.com/FuCN3XAkA3

— Diana (@lunarnomad) February 11, 2015
"Every soul should be valued the same…a terrorist is a terrorist regardless of the colour of their skin" #MuslimLivesMatter #StopHateCrime

— raj (@rxjjj) February 12, 2015
Good morning @wnyc @nytimes I read and listen to you every morning and am shocked that there is no coverage of #ChapelHillShooting

— djrekha (@djrekha) February 12, 2015
According to a blog in the Express Tribune, the front pages of the New York Post, LA Times, Chicago Tribune, USA Today and Wall Street Journal did not have a single mention of Tuesday's killings the morning after. A blog in  Vox concluded that media coverage of mass shootings varied by race of the suspect.
What's your take? Have you been satisfied with media coverage of the Chapel Hill killings?