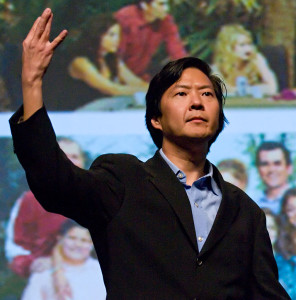 A television pilot starring comedian Ken Jeong has been ordered by ABC, reports NPR.
Jeong will play a part close to his real life. He'll portray a doctor who's struggling to keep it all together.
Jeong attended medical school and worked as a  doctor for seven years before taking a dramatic turn and launching an acting career.
The news is likely to be greeted with mixed feelings by members of the Asian American community. Many will be happy to see an AAPI actor getting a major opportunity.
Others however see the roles Jeong plays as demeaning to Asian Americans.  He is best known as Senor Chang in Community and for his recurring part in the Hangover movies.
What side of the debate do you fall on? You can read more about this controversy on NPR.
(Photo by "KenJeongMar10" by Jesse Chang. Licensed under CC BY-SA 2.0 via Wikimedia Commons – http://commons.wikimedia.org/wiki/File:KenJeongMar10.jpg#mediaviewer/File:KenJeongMar10.jpg)