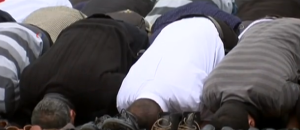 More than five-thousand people attended a memorial service for three Muslim Americans murdered in what police called a parking dispute, but what others suspect to be a hate crime, reports VOA.
Many of those in attendance are still trying to make sense of it all.
"This is abnormal,"  said Sirageldin Osman. "… We never had any hardship in this area since we've been here. We've never seen such a situation like this, so we feel sorry for everybody. It's not for us, for Americans, Jews, Muslims, non-Muslims. It's a situation that we all feel sorry for."
Deah Barakat, a student at University of North Carolina at Chapel Hill, his wife Yusor Abu-Salha, 21, and  her sister Razan Abu-Salha, her , a student at North Carolina State University in Raleigh were all shot and killed earlier this week.  Their neighbor Craig Stephen Hicks is facing three counts of first degree murder.
The FBI has joined the investigation of the case and says it is looking to see if any federal laws were violated.