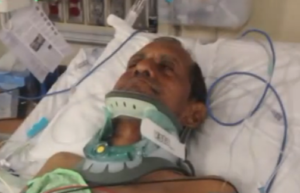 The police chief of Madison, Alabama is recommending that an officer charged with assault be fired after a beating that left an Indian man partially paralyzed, reported WHNT.
The incident was captured by a police dash cam and released to the media. It shows two officers stopping Sureshbhai Patel who was in Madison from India to visit his son. The grandfather was taking a stroll in the neighborhood when two officers stopped him to investigate a report of suspicious activity. The officers repeatedly asked Patel if he spoke English which is extremely limited. One accused Patel of "trying to jerk away from me" and slammed him into the ground. Patel's head hit the ground and when they tried to get Patel back up, he could not stand up.
Officer Eric Parker has been charged with third degree assault
"I sincerely apologize to Mr. Patel, Mr. Patel's family and our community. We strive to exceed expectations," said Chief Larry Muncey. The family has filed a lawsuit in the case.
You can watch the dash cam video below in the report from WHNT.