I'm sure by now everyone has heard about the new ABC comedy, Fresh Off The Boat. Many Asian Americans are happy to finally see some representation in the media and happy to watch a TV show that they can relate to. Asian people are not very well represented in Hollywood. Hollywood usually portrays Asians as martial artists, the bad buy, the asexual sidekick, the awkward Asian immigrant and hypersexualized women. That's why whenever Asians are given major roles, we are overjoyed as we are given a sense of hope that maybe we can be accepted in this country after all. Pause. Accepted to what exactly, and are we even questioning these roles?
Korean American actor John Cho rose to fame after the movie Harold and Kumar became a hit. His recent ABC comedy Selfie was unfortunately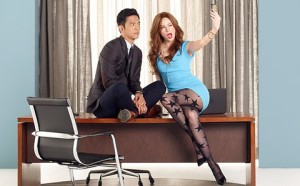 canceled and disappointed a lot of fans. Let's analyze John Cho for a second. Have any of you readers noticed anything strange about rising Asian American stars in Hollywood? Have you noticed that the more "American" or "Western" they are, the more they are allowed to play leading roles in Hollywood? John Cho's character in Harold and Kumar was undoubtedly an Americanized Asian and did not display a hint of Korean culture in his role. What would have happened if he embraced his own Korean identity and performed his role from a Korean cultural context, or if his co-star Kal Penn (Kumar) performed from an Indian cultural context? The movie would most likely not have been as successful. Why would it not have been successful? Well, because America practices a non-indigenous white American culture that is inherently Western European and expects everybody to conform.
Korean American actor Sung Kang, best known for his role in the Fast and the Furious franchise is another great example of how conforming to "American culture" will win him a major role and even win him a pretty girl in the movie. What does this mean for Asian culture? Does this mean that because our Asian culture is inferior, we will not get any representation and respect in the media unless we conform to the superior white American/Western culture? That, unless Asian actors bow to the white American/Westerners and contribute to the indoctrination of our own people through the media–by playing Americanized/Westernized Asians–that they will never make it in Hollywood?
Why does a country that is purportedly based on freedom and equality for all, practice white hegemony and expect all minorities to conform to the non-indigenous white American/Western culture? Maybe it's because the forefathers of this country passed on a legacy of hypocrisy, especially after advocating freedom and equality while owning slaves. Facepalm, anyone?
When was the last time an Asian actor played a leading role in an American film in which he practiced Asian culture and was seen as respectable and "cool?" Romeo Must Die was one. However a kissing scene between Jet Li and R&B singer Aaliyah was removed upon racist feedback from African American viewers. Ultimately Jet Li was emasculated. Hollywood rarely advocates multiculturalism in which an ethnic minority is able to play a leading role while practicing their own culture, and while being portrayed as "cool" and respectable.
It's important to help support our Asian actors and actresses but it's even more important to make sure we critically analyze the nature of their roles. Should we really be proud of more Asian representation in American/Western media, when their roles displace their Asian identity and advocates a white American/Western European identity? Should we not push for more Asian representation in the media that adheres to our own respective cultures? Our cultural identities are not inferior! We shouldn't have to conform to their culture to get an ounce of respect! It's time to take a stand as GOLD people (white people have labeled us yellow but I say we come in all shades of GOLD). Power to our Asian brothers and sisters! Power to our GOLD people!
(About the author: Sung Kim is a recent graduate of DePaul University pursuing his doctorate in sociology)