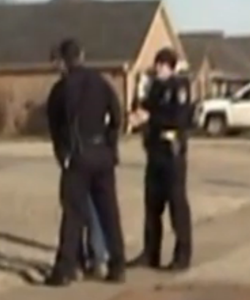 A grandfather left partially paralyzed after being slammed to the ground by a police officer in Alabama is showing signs of improvement, reports the Indian Express.
The attorney for Sureshbhai Patel says he was able to speak for the first time since the attack.
"Due to his hard work and motivation, Mr Patel is improving faster than expected though he has a long way to go," his attorney Henry F Sherrod said. "His grip strength and right leg are improving. The left leg is improving but more slowly. He can speak, eat, etc. Only arms and legs affected."
A Go Fund Me  campaign to pay for Patel's medical expenses has so far raised more then $150,000.  He reportedly does not have medical insurance and his medical bills are expected to be $250,000. Patel was visiting Madison from India to visit his son and grandson.
The AJC reports Madison Police stopped Patel after receiving reports of a suspicious "skinny black guy" with a toboggan hat walking in the neighborhood. Officer Eric Parker faces assault charges and the department is moving to fire him. The family has filed a federal lawsuit in the case.
Police video of the incident shows an officer slamming Patel to the pavement. The officer tried to get the grandfather back on his feet, but his legs were too wobbly to allow him to stand up.