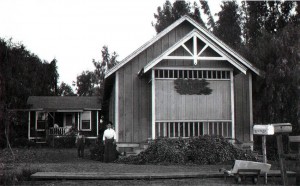 In an effort that began in January 2013, Historic Wintersburg is pleased to announce the PBS series, Our American Family: The Furutas of Historic Wintersburg.  The film will have a worldwide advance screening on Saturday, February 21 at the Japanese American National Museum in Los Angeles, California.
Historic Wintersburg is proud to have provided background, research and assistance with the film production. Our American Family features five-generations of oral histories, archival photographs and interviews with the Furuta family, beginning upon the arrival of Charles Furuta in America in 1900.
In addition to the 1982 oral history of Yukiko Furuta, film makers utilized research and images provided by Historic Wintersburg and the California State University Fullerton Center for Oral and Public History. Those included one-on-one interviews with Furuta family descendants and personal photographs from the Furuta family.

The Saturday, February 21 screening at the Japanese American National Museum will be part of the annual Day of Remembrance. The day   commemorates the anniversary of the signing of Executive Order 9066.   Historic Wintersburg will join a host of organizations at the Museum's Central Hall, from 2 p.m. to 4 p.m. that day to continue the remembrance of the presidential act that mandated the forced evacuation and confinement of Japanese Americans during World War II.
Following the Day of Remembrance exhibits in Central Hall, the screening of Our American Family: The Furutas starts at 5 p.m. in the Takeuchi Democracy Forum, across the plaza from the Museum's main entrance.  This is a free advanced screening, open to the public.  Seating is limited.
We thank PBS SoCal for assisting with the advance screening.  They will be the first PBS station in the country to air Our American Family: The Furutas, starting in late February 2015 (exact air date TBA).  Later this year, PBS stations around the country will begin airing the program.
We also thank the Japanese American National Museum for graciously hosting the screening on an important day to remember the history of Japanese Americans.