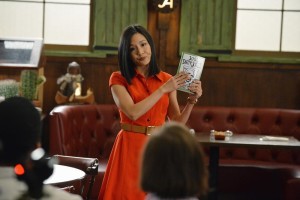 Fresh Off the Boat returns tonight with an all new episode at 8/7 Central. Unlike the first two weeks when ABC aired a double episode of the comedy, only a single showing will air tonight.
In tonight's episode, Jessica's (Constance Wu) efforts at giving the staff of Cattleman's Ranch Restaurant a lesson on sexual harassment fall flat. Louis (Randall Park) is forced to bring in an outside consultant. If you recall in the pilot, the principal at Eddie's school threatened to suspend Eddie for fighting back after being called a "chink." Louis responded by threatening to sue the school, calling it the "American way."   The lesson Louis wants to impart on his staff is apparently a preemptive strike.
Fresh Off the Boat is done from the child's point of view, namely Eddie.  Eddie reacts to the film shown the Cattleman's staff with the typical giggles of a pre-teen. Eddie decides to pass off the instructional video as a "dirty movie" to his friends in an effort to make new friends and get them to come over for a sleep over.
Fresh Off the Boat has been one of the most talked about shows on Twitter the last two weeks. Lets continue the trend tonight. Join us for a live tweet during the episode.