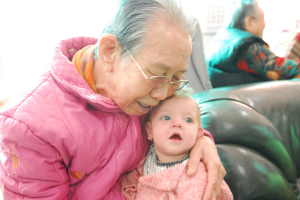 By Mandy Day
On February 19th, Koreans all over the world will wake to a day filled with traditional games, food, and rituals. The three day Korean New Year (Seolnal) holiday coincides with Chinese New Year and Vietnam's Tet Festival on most years.  Communities large and small gather together to celebrate the annual holiday. For many in Korea, Korean New Year consists of traveling to their family homes, much like at Korean Thanksgiving (Chuseok). For millions of families, Seolnal presents one of the few opportunities each year that generations can gather to spend time together (photo by USAG-Humphreys).
For Hyeyoung Park, a student at the prestigious Seoul National University, Korean New Year is a precious break from the rigors of university life. "I usually have a big family gathering on that day," she says from New York City where she is on a student trip. Her family drinks rice wine and eats kimchi pancakes while talking through the night. Some years feature small fireworks for entertainment and fun.
Janelle Bobbitt, an English teacher from California living in Ansan, south of Seoul, plans to spend the holiday with the family of a close friend. She looks forward to eating traditional foods made by her friend's mother. Bobbitt wrote in a Facebook message, "I am a big fan of the freshly made rice cakes."
Tteokguk is a rice cake soup traditionally made for the New Year's celebration. Eating it signifies cleansing oneself from the previous year. A unique
aspect of Seolnal is that it marks the day when people grow older, like on birthdays. Once a person finishes eating tteokguk on Seolnal, they become one year older (Photo by Adam Nicholson).
Similar to Chinese New Year, Park's family celebrates customs from centuries ago. "We do bow in front of the elders wishing their health and wealth," she says. Elders in general, hand envelopes of money to their children along with words of wisdom for the upcoming year.
Though the holiday is largely centered around food and ancestral offerings, games are also a celebratory tradition. Throughout the United States, these games and gatherings can become more of a community affair than a family celebration. In San Diego several years ago, this writer got schooled by small children at Yut Nori, a centuries-old game involving marked sticks and a game board. The sticks, yut, take the place of dice and determine how far the game pieces move across the board. Other games like Tuho (throwing sticks into a pot) and Yeonnalligi (kite flying) are also popular activities for families during Seolnal.
Organizations across the country have events planned to commemorate with food, music, dancing, and cuisine. Small Korean language newspapers, student and community organizations, and businesses host events across the country to introduce non-Koreans to the rich cultural history of the peninsula. For Korean Americans, Seolnal can serve as a way to participate in customs of their ancestors. Experience this holiday celebration by searching for a local event in your town or city.