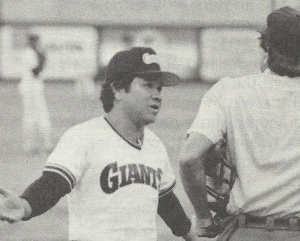 Wendell Kim, the first Korean American to wear a major league uniform, is dead at the age of 64.
The Fresno Bee reports that Kim died in Phoenix after a battle with Alzheimer's. disease.
Kim coached the Fresno Giants before joining the San Francisco Giants coaching staff in 1989. He stayed with the big league club for seven years before moving on to the Boston Red Sox, Montreal Expos and Chicago Cubs.
Fans don't exactly follow teams because of the coaches, but Kim definitely stood out in the eyes of this Asian American sports fan because of the racial barriers he broke.
I have fond memories of him standing on third base, hands on knees, prepared to wave runners home as they rounded third base.
Kim was a native of Hawaii.