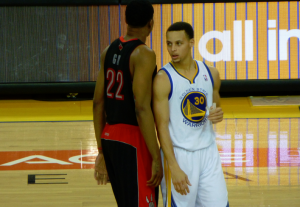 Warrior guard Steph Curry is lending his support to the families of the victims in the Chapel Hill murders (photo by Matthew Addie).

Curry paid tribute to Deah Barakat, his wife, Yusor Mohammad Abu-Salha, and her younger sister, Razan Mohammad Abu-Salha by writing on his athletic shoes #CurryFORDEAH and #RIPDEAH during NBA All Star weekend.
He's since announced he is sending the shoes to the family as a small gesture, reported The Nation.
"Hopefully they know I've been thinking about them," Curry said.
"Once I got to know who Deah was as a person and the stories that everybody was telling about him, it only seemed right to honor him and his family and let them know people were thinking about them, they're not alone and hopefully to give them some kind of peace and comfort. He was a special guy. I just did my little part to shed that light toward him."
Do gestures like this really matter? You can read about that in The Nation.
Stephen Curry pays tribute to Deah Barakat during @NBA All-Star weekend: http://t.co/TP18GllFpx Photo: @warriors pic.twitter.com/v1OMWqcPS6

— UNC-Chapel Hill (@UNC) February 16, 2015