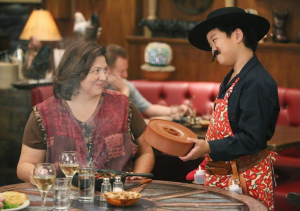 If anyone wondered if a show about an Asian American family could attract an audience on broadcast television, we have an answer.
For the second week in a row, Fresh Off the Boat was the highest rated comedy out of six aired on Tuesday night.
To attract a large audience, the program had to appeal beyond its core Asian American audience. Through the first five episodes, it seems to be doing that.
In an article for BuzzFeed, Christine Hyung-Oak Lee admits wondering if her white boyfriend would enjoy the show.
She didn't even invite him to watch with her, afraid of what he might think. He saw her laughing and decided on his own he would watch.
To her surprise, the boyfriend laughed when she laughed. When he didn't understand something or didn't agree with what he saw on the program, the two talked about it. Lee wrote:
"For many Asian-Americans — whether here by adoption, immigration, or born here — so much of life here as Americans is the desire to be accepted, and the rubrics for acceptance. In that sense, Fresh Off the Boat is universal in its theme. Aren't we all trying to figure out how to fit in?
Viewers so far are buying into that premise. According to Variety, Fresh Off the Boat increased its rating in the 18-49 demographic to a 1.9, that's a 12% gain in the demo. The only other freshman comedy besides Blackish to earn a higher rating was the premiere of Marry Me on NBC back in October.
After only three weeks, its much too early to know if Fresh Off the Boat will stay afloat for a second season. Next week it will be up against a two hour episode of the Voice. That program coupled with NCIS on CBS make for some extremely tough competition. Next week will be a critical for Fresh Off the Boat.
Stay tuned.