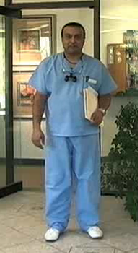 A dentist faces criminal negligent homicide charges in the death of a patient who was having 20 of his teeth pulled, reports People.
Rashmi Patel was arrested almost a year to the day after 64-year old Judith Gan died under his care in Connecticut.
Patel reportedly continued the procedure even as an assistant begged him to stop, according to the Hartford Courant.
Patel's attorney points out that the State's Dental Commission decided against pulling Patel's license.
"The state's seeking of criminal charges is contrary to this evidence and inconsistent with the decision of the Commission not to revoke his license. Dr. Patel disputes the charges and urges that the charges be dropped."
RELATED STORY:
Dentist Fights for His License After Patient Dies