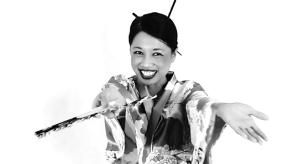 We won't be your #Tokens any more. That's part of the message writer/director Benjamin To wants to get to the voters of the Academy Awards, and he needs your help.
He's directed the online video below and he's asking you to share all day today what he calls his PSA or Public Service Announcement with the hashtags #Tokens and #Oscars.
When the nominations for the Academy Awards came out and there were no people of color nominated in any major category, he knew he had to do something.
"America is a beautiful country because it is influenced by so many different walks of life," he said to AsAmNews.  "That is why I was particularly disturbed by the Oscar nominations this season as there were no nominees of color within the major categories! This motivated my team and I to create a PSA in response to the nominations and I was hoping to enlist the help of the good people out there to circulate it via social media."
The video starts with three actors in the middle of their "nightmare auditions."  An off camera director asks them to be more ethnic. You see one portraying a Mexican actor in his sombrero shaking his maracas, the ghetto African American actor wearing gold chains, a t-shirt and a sidewards baseball cap jiving to his homies, and an Asian American geisha girl who's "here to please you" and "love you long time."
"The reality is that we as minorities are still forced to look at ourselves through our media as second class citizens. Rarely are we ever the heroic figure, the love interest, or someone of great importance. Instead, we are the servants, the sidekicks, and the mistresses to our Caucasian counterparts," he said.
The actors Cartrell Daniels, Diane Cortejo, and Samuel Reyna are all part of the production team To founded, The BAND WITH NO NAME Film Company.
"As an Asian American, I am accustomed to the idea that our culture and our community are filled with an abundance of tremendous art and artists. It's not like we're lacking talented people or creative minds, but it's because we do not have a platform for our voices to be heard. Often times, we are marginalized in mainstream media because of the way others assume our culture is supposed to be presented. It's time for us to stand together and present our culture in the way that we want it to be presented. But at the end of the day, this is not an Asian American, African American, or Latino American issue; it's an American issue,"  To emphasized.
It would be great if this video went so viral that reporters asked the stars walking down the red carpet today at the Oscars about it. To, however, is a realist, and he doesn't expect that to happen– saying the actors have too much at stake to comment on something that's not the status quo. That's OK because as long as you and others help #Tokens go viral, it will be a start.
"We wanted to start a conversation; a thoughtful, honest conversation about why certain groups are having such a difficult time finding proper representation. We know that this problem will not be resolved overnight, but the first step to alleviating anything that doesn't seem to be right is to talk about it.
"In turn, this will hold a mirror up to our society and force us to look at our current state of race relations and diversity within of media. We hope to spark dialogue among friends and families to discuss the importance of coming together for the common goal of achieving equality."
If you'd like to support To's effort, share this post and video right now.