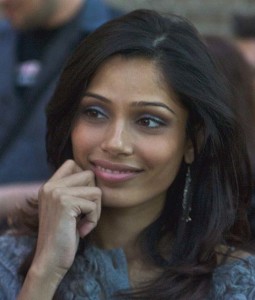 The partying is already underway at the Oscars even before the first person walked the red carpet.
India Today reports that Slumdog Millionaire Freida Pinto (pictured left) hosted the Vanity Fair pre-Oscar party Friday night for the second year straight. The funds raised support Pinto's pet cause, Girl Rising.
Among those who joined the festivities were former Miss America Nina Davuluri (pictured right) and Priyanka Chopra.
"It was a wonderful feeling to host the Vanity Fair Pre-Oscar bash in support of Girl Rising for the second time,"
Pinto was quoted as saying in Indian Express.  It was a spectacular way to draw attention to the Girl Rising- India movement among my peers and the audiences especially since most of the world is clued in because of the prestigious upcoming Oscars. As a producer and ambassador for the Girl Rising movement, I feel so proud to see our baby taking its first steps, to becoming a revolution that aims at giving girls that much required chance to unleash their full potential, one that aims at changing mindsets towards India's daughters."
(Photo credit: "Freida Pinto TIFF2008 01" by Jeff Karpala – flickr.com. Licensed under CC BY-SA 2.0 via Wikimedia Commons – http://commons.wikimedia.org/wiki/File:Freida_Pinto_TIFF2008_01.jpg#mediaviewer/File:Freida_Pinto_TIFF2008_01.jpg_)
@priyankachopra and Freida Pinto #GirlRising #GirlRisingIndia @BecauseImFreida pic.twitter.com/FMTzaKHpjY" @girlrising

— PRIYANKA♥MALDIVES FC (@MVPCfans) February 21, 2015
Priyanka Chopra and Miss America Nina Davuluri @priyankachopra #GirlRising pic.twitter.com/HOpwagR69X"" @girlrising

— PRIYANKA♥MALDIVES FC (@MVPCfans) February 21, 2015
.@BecauseImFreida lights up Hollywood for #GirlRisingIndia Thank @vanityfair @LOrealParisUSA @vfagenda @girlrising pic.twitter.com/pNtfHfdPRY

— Girl Rising (@girlrising) February 21, 2015
More pics of @priyankachopra