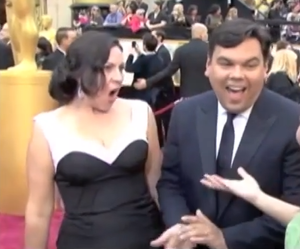 Academy Award winners Robert Lopez and his wife Kristen Anderson-Lopez will be watching Neil Patrick Harris perform a new number they composed for the Oscars tonight in their pajamas and from the comfort of their New York home, reports the Inquirer
It'll be quite different from last year when they sat in the audience and heard their names announced as the winners for best original song for Let It Go from the hit Disney movie Frozen..
"It's our first time writing for an awards show, so it's been a learning experience—but lots of fun," said Robert who's grandfather was Filipino and grandmother Filipino and Scottish. The Oscar number Moving Pictures is described as a multimedia musical sequence. Harris will perform the song accompanied by some surprise guests.
Robert is a member of a rare group of accomplished entertainers. At 39, he's the youngest ever to win the EGOT–Emmy, Grammy, Oscar and Tony. It's been a whirlwind year for the couple since they won their Oscar. You can read about all the projects in the works plus a few more they can't talk about in the Inquirer.