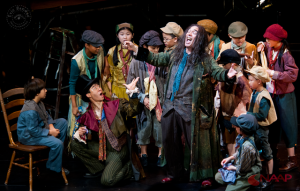 An all Asian American production of the classic Broadway hit Showboat has been cancelled due to a racial uproar, reported Broadway World.
The National Asian Artists Project in New York has produced a number of all Asian American interpretations of American classics including Oliver (pictured), but Showboat with its theme of racial discrimination against African Americans in the late 1800s and early 1900s struck a raw nerve with some.
In a statement the project said:
"We spoke with, and listened purposefully to members of racially diverse communities and particularly with our most direct constituents, Asian Americans, regarding how tackling this work might be perceived when the Asian presence is thrust into the center of a conversation that has historically excluded it. After carefully absorbing arguments of both support and opposition, we have chosen to cancel the production, concluding that the goal that propelled us – to lift up the Asian American theater artist – could not be sufficiently achieved."
Among one of the most vocal critics of the planned NAAP production was Asian American actress Erin Quill. In her blog  Fairy Princess Diaries,  Quill wrote:
"This show is a show about the great racial divides within the Deep South — divides that are, without question, Black and White. It does not matter that Asian Americans were in the United States at this time, we were not 'toting that barge' or 'lifting that bale'. Asian Americans were not recovering from being ripped from their homeland and bound in chains due to the color of their skin. It is not 'our' story to tell. Ever. Nor is Ragtime, or Hairspray, or Memphis, or The Color Purple and so forth and so on….RACE MATTERS IN SHOW BOAT. SHOW BOAT IS A SHOW THAT IS DEFINED BY RACE. SHOW BOAT IS A SHOW WHERE RACE IS THE REASON THE ACTION MOVES FORWARD."
Quill thanked NAAP for listening to the concerns of the Asian American Broadway community.