If there are any thrifty people in your life, aka cheap, tonight's episode about money on Fresh Off the Boat will have you laughing out loud.
Jessica Huang (Constance Wu) is brilliant as the penny wise mom who's constantly worried about the household finances and will go to the extremes to keep a tight reign on the budget.  Jessica's quest to save a few bucks on the utility bill put the family in some hilarious situations.  The younger children,  Emery (Forest Wheeler) and Evan (Ian Chen) nearly wilt under the mom's care, but not before they make us laugh with their youthful innocence.
Eddie Huang (Hudson Yang) of course is the cool pre-teen in the family. He schemes to keep up with the other kids in the school by concocting ways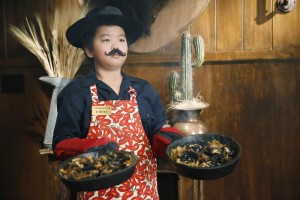 to get money from his parents to buy the latest video game.  His father Louis (Randall Park) refuses to just give in to his son's charms and makes Eddie earn the money by working in the family restaurant.  What Eddie does to earn a few extra tips will have you digging into your pockets. This episode was originally named after the video game Shaq Fu. At the last minute, the producers changed the episode's title to Fajita Man. When you see Eddie scene with the fajitas, you'll understand why.
The cultural nuances in this episode are much subtler than those in the earlier shows.  However, you'll notice the writer's pay homage to the matriarch and patriarch of the Huang family. Eddie working in the family restaurant is reminiscent of similar situations in small family owned Chinese restaurants.
Tonight's episode airs at 8 pm /7pm Central. It's a critical night for Fresh Off the Boat because its up against two shows that traditionally rank high in the ratings–NCIS and now The Voice. It will say a lot about Fresh Off the Boat's popularity if its able to maintain its standing as the number 1 comedy Tuesday night. If you must watch those other shows, tape it and watch Fresh Off the Boat live.
Join us again for a live tweet party at 8 Eastern and Pacific.