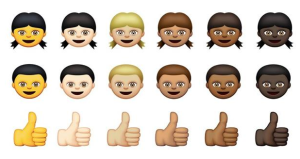 New emojis being released by Apple to represent a more diverse world have some Asians shaking their heads.
The one many say is meant to represent East Asians is bright yellow. Now that's taking yellow power to the extreme. Some consider it more yellowface.
According to SFist, the uproar actually began on the Chinese microblog Weibo.
Its since spread to the US. Audrey reports "that skin tone is really only fitting for Lego people or for The Simpsons."
However the Washington Post's Caitlin Dewey writes a long defense of Apple saying the yellow emoji is supposed to be ethnically neutral and not representative of East Asians. It has something to do with something called the "Fitzpatrick Scale."
If that's the case, which one is supposed to be the East Asian? The Post says its supposed to be third or fourth one. Will if that's the case, what's the deal with the eyes? Has the emoji already had some Asian eye surgery?
What do you all think?