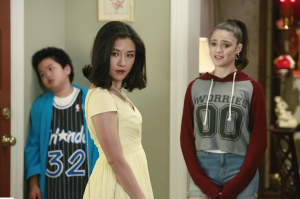 Tuesday's Fajita Man episode of Fresh Off the Boat scored a 1.9 rating in the key 18-49 demographic, reports TV by the Numbers.
That's the same rating as the previous week despite being up against The Voice this week, one of the most popular shows on television right now.
Once again, Fresh Off the Boat came in as the number one rated comedy Tuesday night, beating out four other shows.
It was the fourth highest rated show of the evening out of 14.
The fact that Fresh Off the Boat was able to maintain its rating halfway through season 1 run is a good sign that it can stay afloat and come back for season 2.