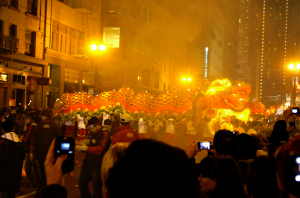 Exhausted but ready for the big show (Photo by Robert Raines).
Perhaps that's the best way to describe the attitudes and feelings of the organizers behind the biggest Chinese New Year parade outside of Asia.
The San Francisco parade has been known to attract as many as a half million people. Good weather is forecast for tonight's parade which often gets rained on.
The grand finale is the 201 foot long golden dragon. According to the parade's official website, the dragon will be accompanied by the sound of 600,000 exploding firecrackers. I would assume that's over the entire parade route which winds from almost the foot of Market Street in Downtown San Francisco to Chinatown.
"Adrenaline… it's all adrenaline," said Stephanie Mufson, a float builder told KTVU.
You can hear from the new Miss Chinatown USA and see the last minute preparations in the clip below.