By DTMuniversal
I sat in a boardroom meeting with TV executives and producers to hear about their new live action kids show Make It Pop, a K-pop (Korean pop) inspired musical comedy. I was excited to hear Asian culture was beginning to influence the western mainstream, and when they told me two out of the three main female leads were Asian girls (a Korean and a Chinese Malaysian), I was delighted… that was, until I found out the show had no Asian guys in them. Surprise (not really): only white guys are in the show as the love interests for the Asian girls.
After the producer's presentation, during the Q&A, I mustered up the courage to ask "Will there be an Asian guy in it"? In a joking manner, the producer said "Nope! Never! Asian guys in my show, not gonna happen!", while everyone else–albeit uncomfortably–laughed it off. Come on now, it's a show about Korean pop. Half the artists from the K-pop industry are Asian men. Most K-pop fans are actually non-Asian girls / women who are a fan of K-pop men. Excluding Asian men in K-pop is like going to Hooters without scantily clad waitresses – nobody wins. The producer began to answer the question seriously and said he was hoping to get PSY to play the father of the main Korean girl. Mentally, I was shaking my head in disappointment.
Another comedic Asian goofball as the only thing to represent Asian men – what a great message we are sending to the Asian girls in our society – that your brother, cousin, father, and your Asian guy friends, are all just laughingstock, unattractive clowns who aren't good enough for you, are incompetent, aren't manly, and completely incapable of love, romance, attraction, being bad ass or cool.
We see these messages, the unattractive and emasculated images, and the omission of Asian men, repeated time and time again in the media like:
21 (Real life story of Asian MIT students are replaced with white actors)
Romeo Must Die (Romeo and Juliet story except Jet Li doesn't even kiss Aaliyah)
The Forbidden Kingdom (only a white guy can save China and the Asian girl from evil)
The Wolverine (every Asian guy is useless and dies)
Full Metal Jacket (me so horny me love you long time)
The Last Airbender (all the ethnic heroes are replaced with white people, but the villains remain ethnic)
The Man With The Iron Fists (all Asian women are sexualized whores)
The Last Samurai (a white guy goes to Japan, kills your brother in law, sleeps with your sister in law, and beats your best friend in a sword fight after only training for a few months, and saves Japan)
47 Ronin (only a mixed Asian born from a white father can save the princess, the other 47 ronin are apparently useless)
Red Dawn (Chinese are evil, but they actually watch Hollywood movies so let's make them North Korean instead)
Dragonball Evolution (Let's make Goku a white guy but keep the Asian girl in it)
Pacific Rim (only a white guy can save the world and protect those poor helpless Asians and save that Asian girl from distress, Asian guys are useless and they die)
Iron Man (The Mandarin is a wimp instead of a bad ass villain)
The Hangover (Asian penis jokes in the 21st century, how mature)
Sixteen Candles (Long Duk Dong, the emasculated Asian nerd who doesn't get laid)
Breakfast At Tiffany's (that old stupid looking bucktoothed angry Asian man played in Yellowface)
Entourage (Lloyd, the gay fat comedic Asian)
2 Broke Girls (another fat Asian nerd character)
And of course most recently The Interview (white guys go to poor Asian country to make fun of / kill Asian guys while having sex with Asian women, while the supreme leader of North Korea is actually another emasculated idiot who secretly dreams of being American but is also useless and dies).
I could go on and list more examples, but that would likely be longer than The Lord of the Rings and the Harry Potter books combined and not nearly as entertaining, so I'll stop there.
After the meeting, a Korean woman in the company jokingly asked me if I was trying to create a role for myself. I began to explain to her that there's an imbalance in mainstream media when it comes to Asian representation. She agreed, there were only Asian girls, no Asian guys. I asked if she had a son, she said yes. I said, wouldn't you want your son to grow up and have positive role models in the media? She agreed. I too, would want that for my children. The other managers who overheard my conversation quietly agreed and said I had the best question in the Q&A session.
In retrospect, maybe I should have been more offended than I initially was (I was the only Asian person / Asian guy in the whole room). Could you imagine if I was a black man and he said "Nope! Never! Black guys in my show, not gonna happen!"? That probably wouldn't have ended well. Which proves my understanding that Asians are the only ethnicity that can still be openly mocked, joked about, and ridiculed in the media and even in public with no repercussions.
But alas, now we'll have another new show, where a new generation of little Asian girls growing up will buy into the fetishized objectified image of themselves portrayed in these shows, and buy into the idea that they can be Asian and cool, but only if it serves the fantasies of white men. Last I recall, Korean pop culture was not invented and owned by white guys. But after watching the promo trailer for this show, that definitely seems to be the case.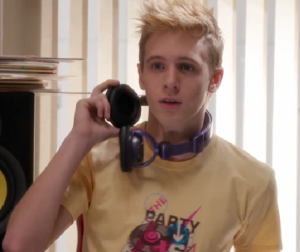 The next generation of Asian boys will be left out once again, creating the angry, bitter, frustrated men you see here in today's world, neglected out of love and affection from society (and even from women of their own ethnicity) – and its not because they're incapable of being a man – it's because everyone in society has already pre-judged what their image / idea of an Asian guy is without ever meeting one. The media has already defined Asian men for them. Consequentially, these Asian men grow up to believe in Hollywood's brainwashing, and that is where the racial self-hate, low self esteem, social awkwardness, passivity, and negativity comes from. In the most extreme cases, you get psychos who start picking up a gun or knife and mass murdering innocent people because they feel neglected from society.
Thankfully, I am not one of these men, as I grew up with strong male role models in my brother and father. But I see a lot of people out there who are less fortunate and have become victims of this massive Hollywood brainwashing – and this is why I chose to speak up about it. Some may be quick to call this a whiny rant, but if you can take a moment of your time to use the internet to look up and watch the films and television shows I've cited, you'll find there's more than enough evidence to support my claims. Sometimes the truth is uncomfortable, and not many will notice these things, and even less will choose to speak up about them. If I have to be labeled as a "bad guy" for speaking up about them, in hopes to raise awareness about these issues to help others realize the bias and damaging effects of the media, then so be it.
After all, who I am isn't important. I'm just an Asian guy.