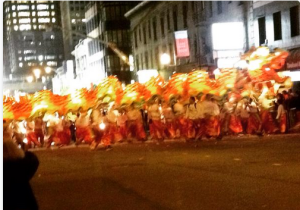 The largest celebration of Chinese New Year outside of Asia did not disappoint.
Hundreds of thousands lined the streets from Downtown San Francisco all the way to Chinatown to witness the Chinese New Year parade and to celebrate the year of the Ram, reports SF Gate.
Some reports estimate the crowd to be as large as one million people. Perhaps many were encouraged to come out by the good weather for a parade which often sees rain.
"We'll be here next year and the year after that and the year after that," said Mike Stump of Castro Valley who came with his wife and two children. "It's good to be exposed to different cultures, different ways of celebrating, but it's also just a great parade."
You can watch a a slide show of the parade in SF Gate.
draggin along at the SF #ChineseNewYearParade pic.twitter.com/1V2Y5vyd1K

— slanted view (@theslantedview) March 8, 2015
#Asians4blacklives celebrating #chinesenewyear with the community pic.twitter.com/PT5IqwTrCX @bannedlibrarian @blackgirldanger @zentronix

— Tina Bartolome (@islandpacesf) March 8, 2015