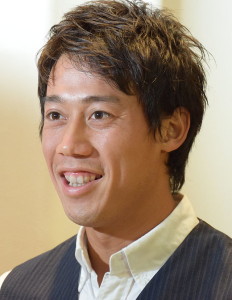 Kei Nishikori has gone where no Asian-born male professional tennis player has gone before
He's ranked number 4 on the ATP (Association of Tennis Professionals) Tour. That's the highest ranking ever achieved by an Asian-born male player.
In late 2013, Nishikori turned to former French Open Champ Michael Chang for help. It's been as they say in tennis–game, set and match.
"There have been very few Asian men that have done well out on tour," Chang told the Desert Sun. "Women have done pretty good, (but) very few Asian men. So I thought this was an opportunity to help a young, talented player from Asia to go out and improve and get to the next level."
Since Chang began coaching Nishikori, he's won five tournaments and became the first Asian male born player to reach a Grand Slam final in the US Open last year.
"I think, little by little," Chang said, "if he continues to improve and continues to get physically stronger, he's just going to be more and more of a
threat."
You can read what Nishikori says about Chang and what others say about Nishikori's game in the Desert Sun.
( "Kei Nishikori January 2015" photo by Tourism Victoria from Australia – Australian Open Players' Party. Licensed under CC BY 2.0 via Wikimedia Commons – http://commons.wikimedia.org/wiki/File:Kei_Nishikori_January_2015.jpg#/media/File:Kei_Nishikori_January_2015.jpg.).
("Michael Chang 2009" by Maarten van Maanen from Eindhoven, Netherlands – Michael Chang. Licensed under CC BY-SA 2.0 via Wikimedia Commons – http://commons.wikimedia.org/wiki/File:Michael_Chang_2009.jpg#/media/File:Michael_Chang_2009.jpg).