I caught up with the award-winning director of Cicada before CAAMFEST to ask him a few questions about his experiences. Written by Yu Shibuya and starring Yugo Saso, Cicada is Dean Yamada's first full-length feature.
His awards include the Grand Jury Awards for best narrative feature from both the Los Angeles Asian Pacific Film Festival and the 2014 Guam International Film Festival. Cicada was also recognized by the 2014 Heartland Film Festival award for narrative feature. A professor at Biola University, Yamada produced Cicada and other projects in collaboration with his students, including the award-winning short Jitensha (Bicycle).
If you're planning on seeing Cicada, which I strongly encourage you to do, be sure to check out Jitensha, which is available for viewing on online thanks to a partnership between the Cicada team and popular blog YOMYOMF (founded by director Justin Lin). Jitensha was the first collaboration between Yamada, Shibuya, and Saso, and it was hard to miss the affection in Yamada's voice as the conversation circled back to the film where it all began.
Cicada plays at CAAMFEST March 13, 14 & 18th.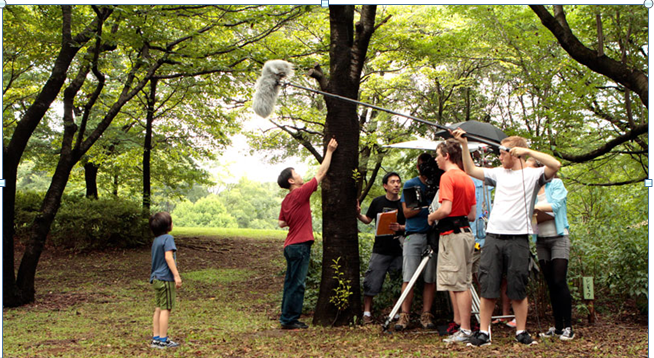 E: You live and teach in southern California – did you grow up there?
D: I was born and raised in northern California, in Davis.
E: Have you always known you wanted to make films?
D: No, not necessarily. I loved stories, and I loved Star Wars growing up, of course. But I think it wasn't until high school, when my friends and I were making these little shorts and I started watching a lot of movies and falling in love with movies. It wasn't even in my mind for me to pursue film at that point, but it was always a love of mine. Then when I got to college, and I was minoring in film at USC, I took a class where I had to shoot five shorts. From that experience, and the films that I made, it always stuck with me. That's why I decided to go to grad school for film, where I realized the power of cinema, and this love of movies evolved into a way to express myself.
E: You mentioned Star Wars – are those your favorite films?
D: No (laughing). The Empire Strikes Back is amazing, but I have sort of grown away from a lot of fantasy. I don't really watch superhero films. Everything I love now is based in reality.
E: Do those favorite styles influence your work?
D: In some ways. Talking about Japanese cinema, [famous Japanese directors] like Ozu and Kurosawa make films that are very much about tradition. I think Cicada is influenced by that. Also visually – the way that Ozu composes his shots and how still the camera is, both of those [styles] have influence on the way that I make films.
E: Why do you choose to make foreign language films?
D: That's an interesting question. I love Japan. My mom was born and raised in Japan and came here when she was about 25. I spent a year teaching English in Japan and it was amazing to be able to live there. After I started teaching at Biola, I made three short films in Japan with my students on location. As an Asian American filmmaker, the sad reality is there aren't a lot of opportunities to get to direct and make films, and so I've had to make my own opportunities and go where the opportunities lie.
E: Where did you teach English in Japan?
D: In a little place in the countryside in the mountains called Sakuma, in Shizuoka-ken.
E: Cicada is your first full-length feature. How did that experience differ from making a short film?
D: Creatively it was a little bit different with how we had to approach the film and create a long-form arc. There's so much more that you need to consider to tell a longer-form story. The shooting schedule was also a little bit longer. We had twenty days to shoot this, and that was also physically more challenging. But it was also more exhilarating, shooting a film in twenty days and feeling incredibly inspired on a daily basis. And now, screening at festivals, it's such a different experience than screening a short, because as a short, you show with a bunch of other shorts. But taking a journey for 100 minutes with an audience – that's a different feeling, it's really rewarding.
E: You've worked with actor Yugo Saso quite a bit. How did you meet him?
D: I teach film at Biola, and the chair of our department produced a film years ago called To End All Wars, where Yugo had a key part. When we were casting for our second Japanese short film called Jitensha (Bicycle), our chair recommended him. I liked him in [To End All Wars] and thought he was perfect. And so we sent him the script to see if he wanted to do it, and it just so happened that his bike had been stolen the week before, so the script really resonated with him.
E: You've used the term "magical-realism" to describe Cicada and Jitensha, and the supernatural in the film is very subtle. Why are there these recurring moments of magic?
D: That's really the writer, Yu Shibuya, who's bilingual. He writes the scripts in English and then translates them into his native language. He's really unique and works in his own way, and that comes out in his stories. He's drawn to magical realism, and maybe he's the magical side and I'm the realist side. Maybe that's why it's such a good partnership, because we complement one another. I think the script for Jitensha was supposed to be much funnier than I made it, but I wanted it grounded in reality, in a way.
E: How did you end up working with Shibuya?
D: [After] the first film that we made in Japan, I had met him through mutual friends. He pitched us a few ideas and one idea just popped out of the page at me: the idea of a man who has his bicycle stolen piece by piece. I trust Yu's writing – he can write anything, and it will really resonate with me.
E: Cicada has been featured at a number of different film festivals and has received numerous awards – what has that experience been like for you?
D: Our very first film festival was the Los Angeles Asian Pacific Film Festival, and that's the one that's really close to my heart and to my wife's heart (she's also a filmmaker). Then when we were at the awards ceremony, and they announced Cicada as the grand jury winner for best narrative feature – we were blown away. Because this is such a small film, made with my students, and it received this recognition from a festival that we love from the people that we respect – that was amazing.
As I said, screening at film festivals with a feature is a completely different experience – and it's really rewarding to see people actually resonate with the film and catch the nuance of the moments. It's a humbling experience.
E: How have your students reacted?
D: A lot of them have graduated and moved on – but they're all really proud of the film and happy it's doing well. They worked so hard on it.
E: What advice would you offer to Asian Americans looking to break into the film industry?
D: The landscape is changing, and with digital cameras everyone can make a film. The important thing is to get your hours in – to make as many projects as you can. With every project you make, you get better. That's my advice.