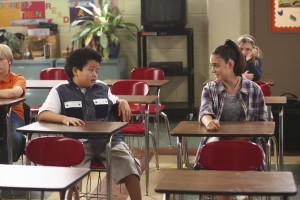 The Asian Jewish episode of Fresh Off the Boat scored its lowest rating of the season on a night which saw lower viewership overall, reports TV by the Numbers.
Fresh Off the Boat fell to a 1.5 rating in the 18-49 demographic, the audience most important to advertisers. That's two-tenths lower than the week before.
However, other shows Tuesday night also dipped. The Voice dropped to a 3.6, that's a half rating point down from the previous week's 4.1. NCIS earned a series low 2.1 on CBS.
What the network will keep its eye on is trends. Since February 25, Fresh Off the Boat has dropped four-tenths of a rating point in the 18-49 demo. The show remains the most popular comedy on Tuesdays.